Our Story
The story of Air Scense. (It's quite refreshing.)
How have we been able to stay true to our original vision of creating and marketing a line of plant derived air fresheners? By never deviating from our plan to be an independently owned and operated company.
This whole crazy ride began with one simple realization nearly three decades ago: there were no environmentally safe, non-toxic, natural cleaning products for the workplace. As a young couple, we recognized this need and Citra Solv was born and immediately put to use as a commercial cleaner. A few years later when we were starting our family, naturally we became more mindful of the home environment. Concerned by the lack of environmentally safe household cleaners, we decided to bring Citra Solv to the consumer market as well.
Not long after, a funny thing happened. People started raving about how great their homes smelled after using our product.
"I feel like I'm coming home to an orange grove!"
– Kelly, St. Louis, MO
Well, there's a reason for this amazing smell:
Citra Solv's natural fragrance comes from the oils extracted from the peel of an orange. Comments from our customers really made us realize just how important essential oils are to fragrance—and what a dramatic role they play in the smell of a home. Once Melissa got used to fragrances derived from essential oils, she instantly began getting headaches when she would walk into a store that carried candles or room sprays made with synthetic perfumes. This awareness sealed the deal. Developing our line of Air Scense plant derived Air Fresheners—made with real essential oils—became our next undertaking.
In the process, we discovered something marvelous: not only do essential oils make your home smell heavenly but they actually help eliminate odors (rather than just masking them). Plus, they have aroma therapeutic benefits, which means they actually enhance your psychological and physical well-being. Happy nose, happy you!
Today, Air Scense comes in four delightfully fresh smelling fragrances: Orange, Vanilla, Lime and Lavender. Home odors have officially met their match.
Enjoy!
Steve & Melissa  
INDEPENDENTLY OWNED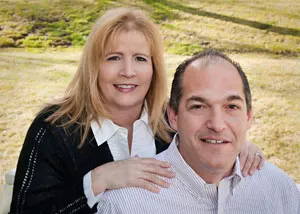 How have we been able to stay true to our original vision of creating and marketing a line of plant derived air fresheners? By never deviating from our plan to be an independently owned and operated company. You won't find a soul-less corporation hiding behind Citra Solv, the makers of Air Scense. What you will find are two owners, Steve and Melissa, real people who genuinely enjoy reading the letters and emails you go out of your way to write.
Our products and our company are extensions of who we are. The principles we instill in our children—to give 100% in whatever they set out to do and to treat others as they would like to be treated—are the same tenets by which we run our company.
Over the years, we have created countless wonderful memories and gained a marvelous sense of pride in what we do. We are so pleased you share our (almost unnatural) obsession with maintaining a great-smelling home. We intend to keep helping you accomplish that scent-sational goal for years to come.
"You must be the change you wish to see in the world."  
- Mohandas Gandhi, 1869-1948
OUR PHILOSOPHY
NATURALLY, OUR POINT OF VIEW IS REFRESHING AS WELL.
It's always been a simple philosophy: offer people plant derived air fresheners (and earth-friendly household cleaners) without sacrificing performance or the environment. We specialize in the development of naturally derived products made from renewable resources that have a minimum impact on our world—right down to the environmentally conscious packaging they come in.
In short, we want to feel good about the products we make. And we do, every day.
Our Customers are king. And that means you.
Everything we do is driven by our desire to exceed the expectations of our customers and every product is the result of our commitment to offer only the best. That's why each of our products comes with a 100% Money Back Guarantee. We encourage you to email or write us with your thoughts on our family of products.
Our Philosophy
We have some extremely strongly held beliefs. Here are a few of them:
Our products should be ones we would want to use in our own home—and we're darned picky.
You don't have to sacrifice performance to have an all plant based product.
Not only do we need to care about the effects of our products on the global environment, we need to be just as concerned with their effects on the environment within our homes.
Our consumers have the right to know what our products are made of. Being transparent with our list of ingredients is essential.
We always treat others the way we want to be treated.
We value our customers and stand behind our products with a money back guarantee.
We have a social responsibility to use renewable resources and recycled/recyclable packaging in our products. It is our responsibility as a company to do our part to reduce our own carbon footprint.
All of God's creatures should be protected. That's why we support groups like PETA and Leaping Bunny.
Supporting environmental education will help keep the planet healthy for our kids and theirs.
"Never doubt that a small group of thoughtful, committed citizens can change the world; indeed, it is the only thing that ever has."  
- Margaret Mead (1901-1978) quoted in John M. Richardson, ed. Making it Happen, 1982
PRODUCT TRANSPARENCY
WE HAVE NO DIRTY LITTLE SECRETS.
Let's face it, we're consumers, too. Just like you, we want to know what's in the products we bring into our home. Everything that goes into Air Scense can be found on our labels and here on our website. The first thing we do when developing a new product is to carefully check out the ingredients that will go into it to make sure they are plant derived. We regularly review our existing products to ensure we are using the best ingredients available.
"Honesty and transparency make you vulnerable. Be honest and transparent anyway."  
- Mother Teresa (1910-1997)